Hotel Info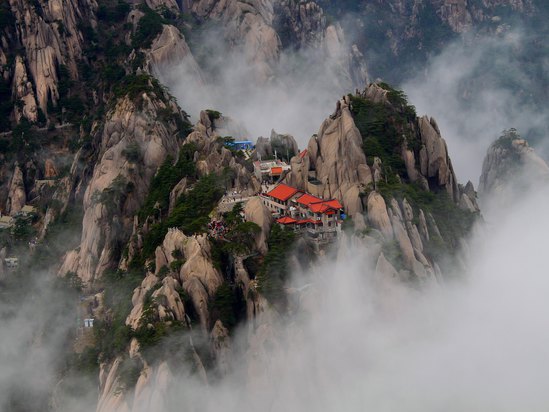 Huangshan Yupinglou Hotel
is a high star tourist hotel with a history of more than 60 years; It is about 400 meters away from Yuping cableway, 470 steps and 20 minutes' walk. It has many good reputation such as 'Yuping in the sky' and 'hotel on the ladder'.
The hotel is located in the core of the scenic area, with natural and cultural landscapes. It is an excellent place to watch the sunrise and sunset, especially from late October to early March of the next year. You can watch it next to the welcoming pine at the door of the hotel (the welcoming pine is about 50 meters away from the hotel, like a tree in the courtyard). Welcome pine, see off pine, Tiandu peak, Lianhua peak, Yuping peak, white elephant stone, Qingshi stone and other famous scenic spots are close at hand. The entrance of Lianhua peak is about 200 meters away from the hotel.
Since 2015, the hotel has been building Huangshan cultural leisure resort around Huangshan humanistic culture through upgrading. The hotel has a variety of room types, including the view room facing Huangshan East China Sea, with a panoramic view of strange pines, strange rocks and sea of clouds; The design of intelligent house is personalized, the articles are household, the operation is intelligent, one room is designed, one thing is surprise; At the same time, you can feel the intimate butler service to meet all your expectations of home.
The hotel also has cafeteria, banquet box, landscape meeting room, landscape leisure bar, Huangshan culture corridor and other functional facilities. It has launched a series of cultural experience products, such as meditation, research, photography, exploration, health preservation, food and Yuping banquet, welcome banquet, Manjusri banquet.
Yupinglou hotel is an ideal destination for sightseeing, leisure, group building and business activities. It is your home beside the welcoming pine!
Breakfast price
: CNY68($9.5) / person
Breakfast type
: Buffet